Making Mendel90
Nov 26
Printing the Shy Light
This beautiful curved model by virtox had proved extremely tricky to print for various reasons. My best attempt had been in black ABS and although the print completed successfully (unlike several earlier attempts) it cracked in several places whilst it was still printing. This, more than any other, was the model that prompted me to build a heated chamber for the Mendel90.
Here is the print, lying on its side, showing the cracks that appeared as the plastic cooled and shrank causing delamination.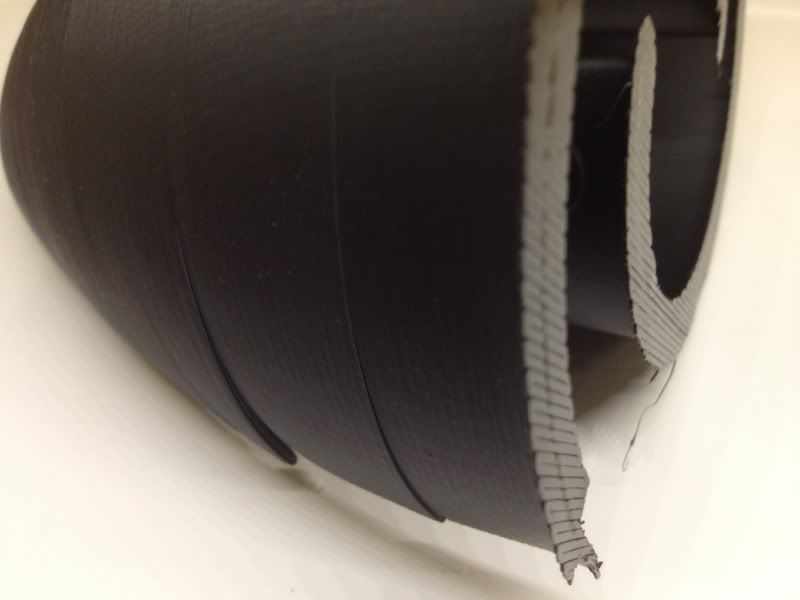 This copy was printed in natural ABS inside the heated chamber at 35 C and, as you can see in the picture, the surface is smooth and blemish free.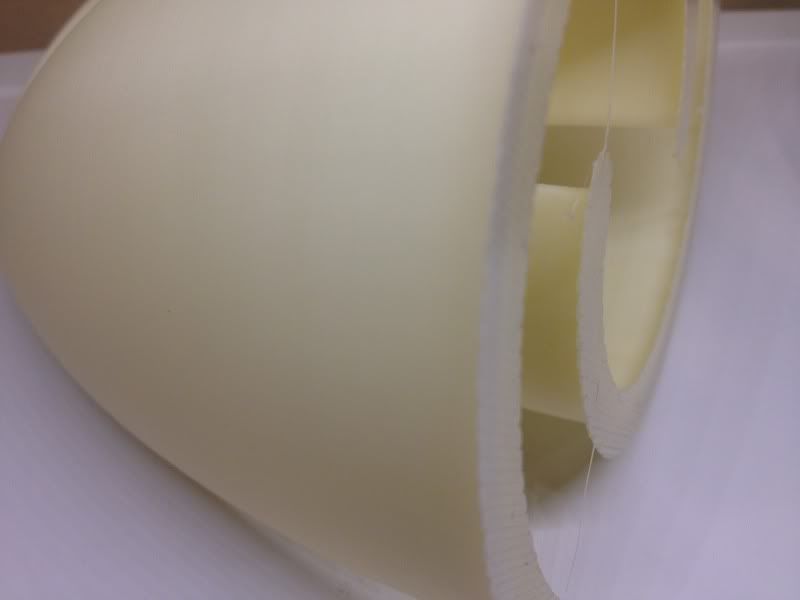 And here are the two prints side by side.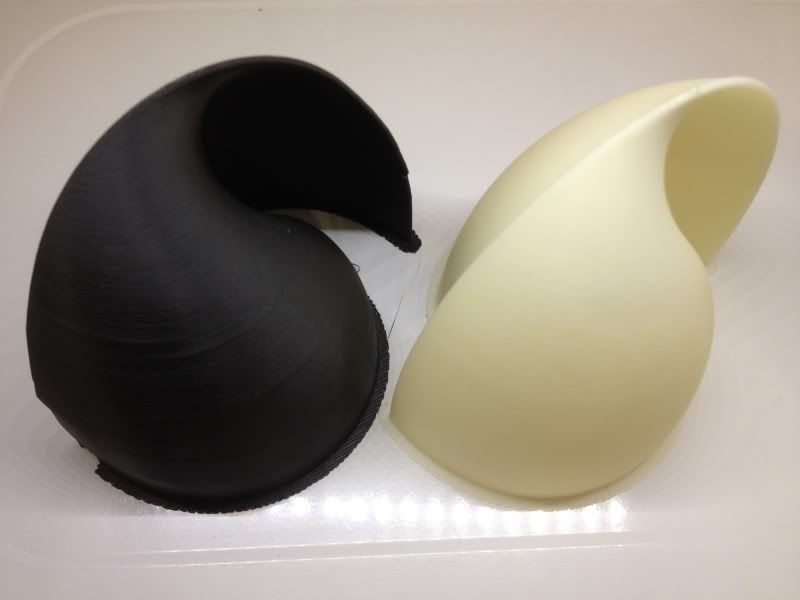 And here is the first model to come out of the Mendel90 inside its new heated build chamber. Admittedly, I shouldn't really compare an ABS print with a PLA one since they have very different characteristics, but nevertheless, I was very pleased with the quality.
Nov 25
This weekend I finally got around to completing a project that I had been planning for some time. Some of my large ABS prints have been splitting (called delamination) due to excessive shrinkage as the model cools whilst printing. This has steadily worsened as Winter approaches and the temperature in my garage has dropped to around 10 degrees C. The best way to avoid this is to print in a controlled warm environment, ideally at about 35C. This means putting the printer inside an insulated box. I bought some lightweight polycarbonate sheet and pine strip wood from B&Q, designed a simple box shape, cut the pieces to size and then glued and screwed everything together. I picked up a cheap digital thermometer from Clas Ohlsen to monitor the temperature inside the chamber. The heat comes only from the heated build platform, but at a regulated 110C, this seems ideal for maintaining the air temperature at close to the 35C I was hoping for. Now I can start trying to print some of those large thin-walled items that have previously failed.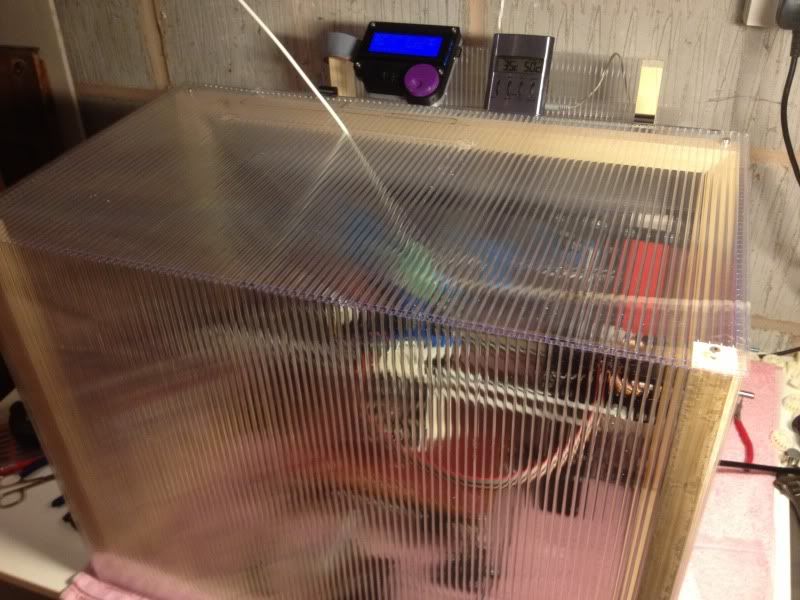 Nov 14
Rodin's 'The Thinker'

Oct 16
Successfully printed the tricky Fabric test by Pretty Small Things in brown PLA. It's like 3D printed chain mail.
http://www.thingiverse.com/thing:31234
Sep 24
mauritsbrock asked: Richard,Can you tell me more on PID control calibration? I have build a Mendel90 and want to calibrate the PID control. What software are you using? I don't recognize the screenshots? Your prints look great! Thanks,Maurits Brock
Hi Maurits
There are basically two approaches - the easy way and the hard way. The easy way is to use firmware that supports auto-tuning of PID control, such as Marlin. I bought a 1284p Atmega chip for my Sanguinololu board so that I could run Marlin. Then you can just use the M303 command described here to let the printer find its own values.
The harder method is to read up about PID control theory (Wikipedia is a good place to start) and learn how to do the tuning manually, iteratively tweaking the numbers until your hot end rises quickly and smoothly to the correct temperature with minimum overshoot.
The software is not really important for this process but I am using Repetier Host for all my printing now. I like its temperature graphing more than Pronterface's because the resolution seems better. It also has a much better 3D preview of the Gcode, which I regularly used to check Slic3r's output.
Sep 08
Using a 3D printer to spruce up a board game
Last weekend, one of my sons gave me an unusual board game for my birthday (thanks, Luke!). The game comes from Germany and is called 'Das Waldschattenspiel', or 'Shadows in the Woods'.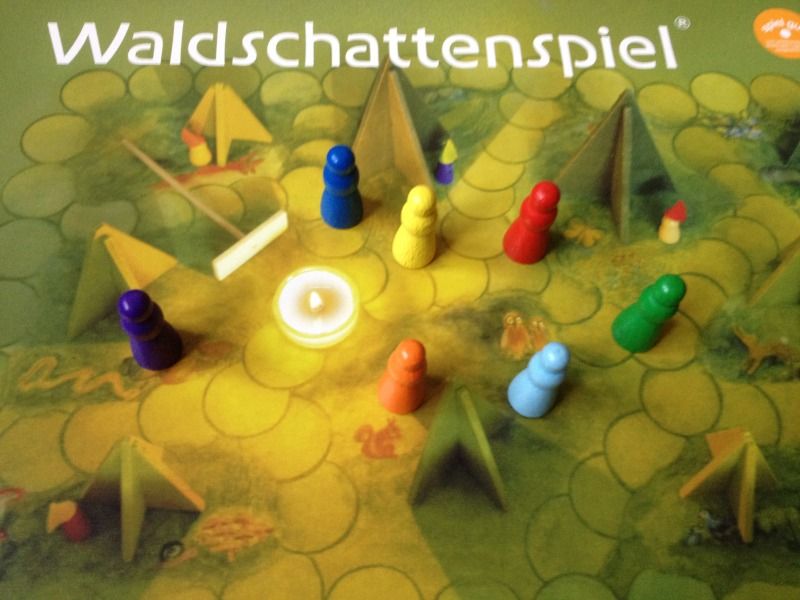 The contents include a large 'forest floor' mat, 10 wooden trees in various sizes, a die, a tea-light and 7 wooden pegs to represent dwarves. The simple rules involve the dwarves playing hide and seek in the woods by the light of the candle which is moved around the board by one of the players. I was intrigued by the concept but somewhat less excited by the suggestion of using a felt pen to draw faces on the men and then gluing on cotton wool and felt cones (included) to represent beards and hats.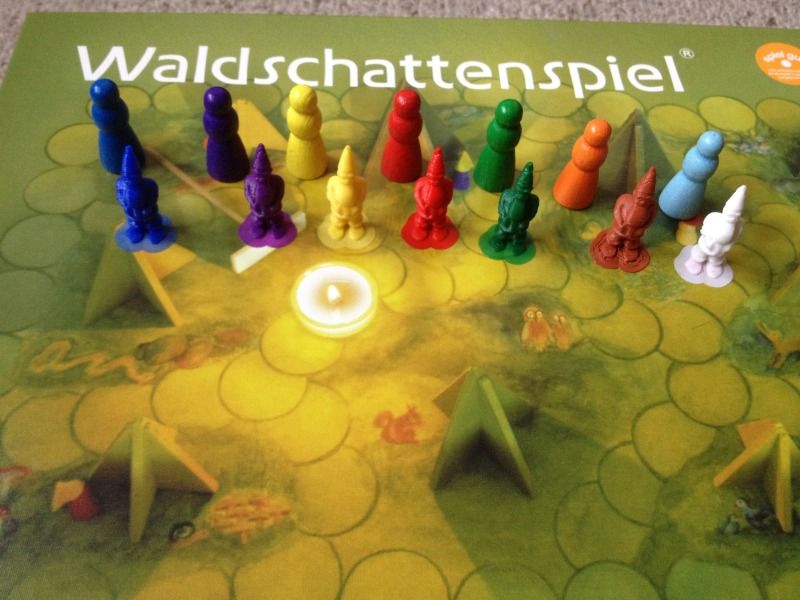 It took only milli-seconds for me to realise that I could improve the game by exchanging the wooden pegs for proper dwarf models made on my 3D printer. 
A quick search on Thingiverse revealed that several models had already been uploaded but one stood out as being perfect for the job. He is a lovely little fellow called Gnome baldbeardington. It was a simple matter to resize the model down to 3 cm tall, the same size as the game pieces.
I haven't played the game yet but already I can see future possibilities for adding levels of difficulty by printing dwarves in different sizes to make hiding easier or more difficult - and why  should all the characters be the same size? The potential for game modifications is just mind-boggling.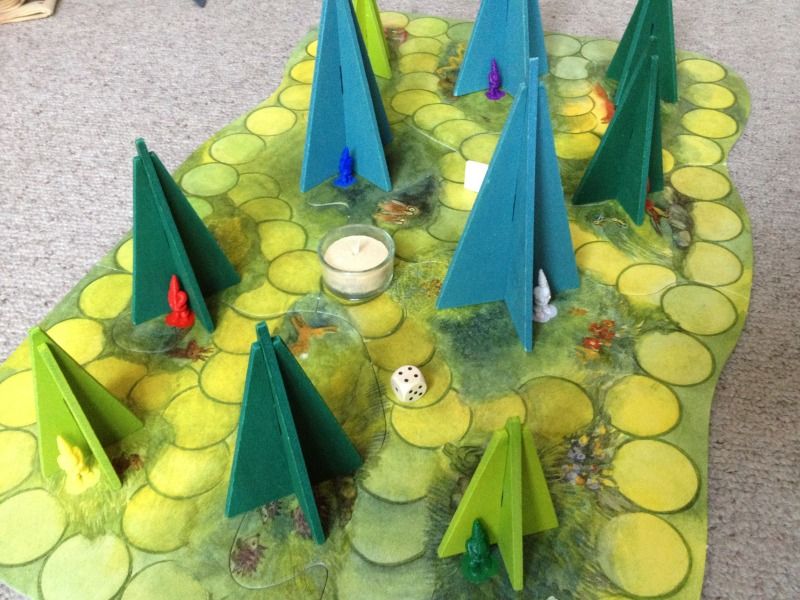 Aug 23
[video]
Aug 22
My entry for the latest RepRap printing competition.
This 10cm voronoi vase was printed at 0.2 mm layer height in yellow 3mm PLA from Faberdashery on the Mendel90.
I would really like to reduce the fine strings and small blobs but probably need some advice about tweaking the settings to achieve that.
Aug 05
… I have finally succeeded in fitting a proper, ducted cooling fan to the Mendel90.
And it really works!